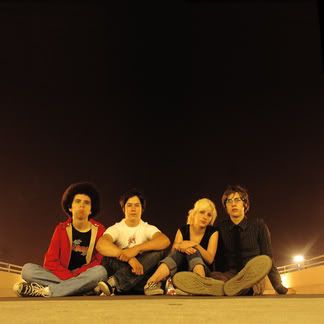 Here's some new stuff I've come across:

AFI, Decemberunderground

Yeah, yeah, I know. What do you want? I loved them all through highschool, I can't just turn it off. This isn't SO bad. Say what you will about Sing the Sorrow, but it was definitive and it was cohesive. The problem this time around is that the mixture of influences is far too broad--not to mention overeager. It only works against Decemberunderground because everything seems so forced. There is a predictably strong sound here, but moments of intrigue are very few. Quite flat in most respects, but oddly (albeit moderately) enjoyable.

Be Your Own Pet, Be Your Own Pet*
*pictured above

Oh man. This album just ripped my balls off. Charming, aren't I? Seriously though, what a perfectly realized mix of adrenaline, and snot-nosed precociousness. You'll hear the Yeah Yeah Yeahs cries (and they are mostly right) but this group of barely-legals have something special. It's rare for a band as young as Be Your Own Pet to have such a finely tuned disposition, knowing exactly what buttons to push and when to push them. Basically, Be Your Own Pet is punk as fuck. One of the best albums of the year.

The Walkmen, A Hundred Miles Off

I am surprised at how much I like this. I adore this album! It's like each track is a different stage of some smoke-filled, indie kid, dream sequence. That sounds horrible, but it works. A Hundred Miles Off is one of those albums that pines to be taken in as a whole. Track by track there is, oddly, no real standout; as a unit each song plays its part in creating a wholly atmospheric, damn near addicting experience. I'm still finding Bows and Arrows a bit better, but this remains a brave follow-up to their mainstream breakthrough.


Coming up: Thoughts on the new Mision of Burma, Sonic Youth, and Thom Yorke albums.

You can't wait. You CAN'T WAIT.