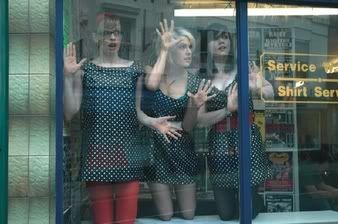 The Pipettes are willing slaves to that wall of sound, and, really, so are we. We've just forgotten. On their debut LP, these cheeky femmes tackle the task of stabilizing the pop and marginalizing the faux retro to the point where it's damn near genuine. Polk-a-dots and double-flip scarves can only cut so deep until you get to the meatier, more cerebral nature of the group's droll methods and jubilant pop confections. Easy on the eyes, these three (Gwenno, Rose and Becki) are only about as vexing as they are impetuous, which is oddly fitting. The type of incredulous enjoyment that these only slightly tongue in cheek, but always-genuine tracks inspire would be utterly wasted if not for their dainty stylings and the concentrated bursts of energy laced throughout.

Militantly adhering to the Spector model, We Are the Pipettes is a marvel of sound and wide-open space. So easily can these instances be self-aggrandizing, but the LP is easily able to stay grounded in its own identity. Pimping that supposed superficiality, the album's more subversive qualities compliment The Pipettes' own dry wit. When placed on such a grand stage, no element seems larger than the next, and the achieved full sound is both earned and satisfying.

The Pipettes and their collective timbre is one of smooth design but sharply crafted corners. For the most part you get a uniform delivery: A block of consistent sonic prose that blends classic popist elements with a more modern, smarmy personality. Methodically, one Pipette after another is able to interject portions of herself into each track in different ways, adding to some of the album's more personable and relatable sensibilities. Probably about as hook-driven as an album can be without becoming vomit inducing, We Are the Pipettes takes a bold approach to a classic style without appearing at all sycophantic. This full and noisy pop masterpiece has the best legs of about any album I have heard this year, and The Pipettes' ornery disposition coupled with their genteel identity only make it that much more addictive.