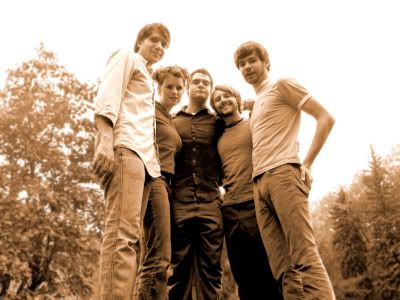 Okay. I'm completely biased because I know someone in the band, but I'm busy tonight and still want to get something up, so here's something to put on your "driving to the beach" mix CD (even if Kenny over at Herbie the Love Blog thinks that songs of summer are dumb).

Anyway, Those Transatlantics (who have been linked to since this blog began) have an album, and it's pretty great, if you're in to summer-y, California-y pop (and who isn't nowadays?). It helps that the songs are pretty uniformly earworms. If you're a try-before-you-buy type, the whole album can be streamed at the band's Web site. Or you can listen to samples on iTunes. I don't care.

If you need full tracks, three are available from the band's label Suburban Sprawl of the Deeeetroit metro area.

First, check out Boys and Children Sing for Summer (from a Christmas compilation, curiously). It's sort of dreamy and ethereal and even features a cameo singing appearance from my friend (he's the Chris you hear warbling).

If that's not your speed, you can try sort of a country ramble type tune, The Other Cheek.

And if you really need a song to cap off that CD before you rush out to eat sandy sandwiches and frolic in most-likely-contaminated ocean water, In Your Neighborhood is just the thing you need. Four minutes of pop bliss.

If you like any of this and live in New York City, the band is playing there Wednesday, July 26 and Thursday, July 27. Probably worth your time. Tell them Todd VanDerWerff sent you, and they'll probably get a little freaked out.

See, this is why I didn't start an MP3 blog. Because I sound just like every other music critic out there.

Stick around. More TV stuff on its way, as well as reviews of a number of films.