In this nether-week before the real season kicks off on Monday, all there was to sate my viewing appetite were Fox's fledgling sitcoms, although there were also some strange goings-on in yesterday's Colbert Report, if anyone caught that. For weeks, Stephen Colbert has been urging his fans to vote in droves at a Hungarian website to name a new bridge in that country after him. Dutifully, his fans have obliged and Colbert demolished the opposition (which included Chuck Norris and Jon Stewart) and emerged triumphant. So, we were treated to an extremely odd scene where the Hungarian foreign minister presented Colbert with a Hungarian passport and invited him to Budapest for the naming ceremony. Apparently, there's a small issue that Colbert is not yet deceased, but I'm hoping it gets smoothed over. Colbert's meteoric rise in notoriety is becoming ridiculous, but I still adore the guy, which must explain the bizarre desire I have for Colbert to succeed in this ridiculous task. I'm not alone in this either, which must explain the fact that Colbert recieved some 20 million votes in the website poll. There's still a lo-tech culty feel to the Report: even though it can be hit-and-miss, it's very impressive that the man can sustain my attention with what is basically four different one-man shows a week.

Moving on to Fox's comedy power hour, and I really can't decide which of these shows is worse. Til Death has a better cast, but the premise is so weak it really can't sustain the attention despite Brad Garrett's reliable mugging. In this week's episode, Joy (the older wife) is convinced by Steph (the younger wife) to use her wifely wiles to convince Eddie (the older husband) to accept feminine furnishings of the house. Steph says it works on Jeff (the younger husband) all the time. But Eddie is so bored of his wife, he decides to decline her offer of sex for the chance to pick out furniture. That premise isn't just boring, it's DEPRESSING! In fact, this whole show is fascinatingly grim. The writers aren't sparing any quarter: Eddie and Joy really do seem desperately bored by each other. Even in their final reconciliation scene of the episode, Eddie was reading a meat magazine over Joy's shoulder. And the young happy couple won't last long either: so far, Eddie's predictions of a slippery slope into horrible tedium for Jeff & Steph have been correct. I'm not sure how much longer I'll be able to handle this show--if I want depressing TV, I'll turn to FX, thank you very much.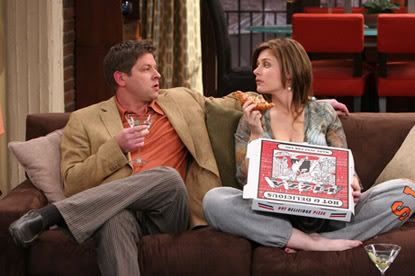 Fox's other offering is the truly dire Happy Hour, which still seems like a really aimless rip-off of How I Met Your Mother to me. The central premise of Happy Hour seems to be that today's 20-somethings should drop their half-caffe lattes and start indulging in good old-fashioned alcohol at all hours to chase the relationship blues away. Or something. I like the alcohol idea, now if only they could weave in a few good lines and make the cast (other than the extremely alluring Beth Lacke, who's like a less shrill, less anorexic Debra Messing) vaguely stand out. I remember there being complaints last year about Josh Radnor of How I Met Your Mother being an uninspiring leading man, but his doppleganger here is a literal non-entity. Not only can I not name either the character or the actor, I don't even think I could describe him to a police artist if he mugged me. The plot of the episode I just watched also escapes me, but I remember that it was 75% flashbacks and 100% not funny. Once all the other new shows start debuting, I don't think I'm going to be able to hang on, even for the delightful Ms. Lacke.