OOPS! Don't you hate it when "life" gets in the way of blogging? I do. Anyway, enough of the theatrics! Here it is, once and for all!
Ten Favorite Albums of ALL TIME:
10. Prince & The Revolution, Purple Rain
(1984)
Crossing over into the most main of main streams,
Purple Rain
saw The Artist Formerly Known as the Artist Formerly Known as Prince taking an earnest and collective look at his place in the industry and leaping forward in a most ambitious turn. Fusing his already eclectic stylings of Funk and R&B with an even more palatable mentality geared towards pop as well as straightforward rock,
Purple Rain
is an undeniable catalyst for most phases in mainstream music.
The nine tracks contained therein; while "dated" in some circles (I won't argue that point here) remain some of the more auspiciously perfect pop tracks one might have the pleasure of hearing. I won't say that
Purple Rain
simply came along at the right time. That is true, yes...but it was more than that. Any album can come along at the right time, give the masses that hint of change they seem to crave and vanish just as soon as they've served a purpose. In the case of
Purple Rain
, however, it seems to have a pulse and a spirit that tends to linger, going past even its most obvious attempts at individuality. It's within the grasp that Prince holds so delicately (never with too much control or too little) that provides the LP with its personality, singularity, and its larger than life heart.
09. PJ Harvey, Rid Of Me
(1993)
...
This is back when PJ Harvey wasn't simply the name of an amazing female artist, but the handle of an amazingly raw, enticing, honest-to-goodness band. The trio's second LP produced by Steve Albini is as viciously erotic and aggressively brilliant as anything Polly Jean has done in her career since. A perfect choice for producer, Albini captures the distinct aura the group presented at the time of a damaged deviance that remains unashamed and unhinged. Both loud and blisteringly quiet, Rid of Me is a darkly told masterpiece of the underbelly.
It's not that Polly Jean got softer when she went solo; hell, she's been to darker places than this. It has more to do with this raw, bloody quality that an album like Rid of Me possesses that can't really ever be recreated, so why bother trying? Artist that she is, PJ has simply reinvented herself over and over again; each album being an honest account of her mental stability (or lack thereof) but none more simultaneously frightening and exciting than Rid of Me.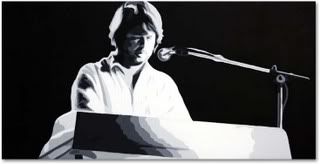 08. The Beach Boys, Pet Sounds (1966)
Pet Sounds
is something of an animal that just up and ran away with itself. Brian Wilson's brainchild, it is a painstakingly twee pop exercise, while still existing as a progressive and innovative walk through the park. Its harmonies are unparalleled in the pop world, save for dozens of imitations; the arrangements employed throughout the album still serve as small marvels of composition, if not feats of structural brilliance.
The great thing about
Pet Sounds
is the way you can derive the sort of mindless joy from it you'd expect from a surfer boy album, but you can also examine it on a level raised solely on its musicianship and creativity. That's not something all that impressive these days, but it was a more than satisfying surprise at the time of the album's release. Sure, for lack of a better term, Wilson was tripping BALLS through out the recording process, but the sort of brazen genuineness he always seems to convey is conspicuously lacking chemical
assistance
.
07. Notorious B.I.G., Ready To Die (1994)

When Christopher Wallace appeared on the scene it was clear that he couldn't be ignored. Whether it was his portly stature, his sedated demeanor, his oddly and easily delivered flow, or the purity of his anger, he wasn't easy to forget. Ready To Die was obviously a landmark album for "East Coast" rap, but, even more than that, it served as a mission statement for what would
be a career far too short and tragic.

With Ready To Die, Wallace brought originality to the hip-hop world that is still surprising today. His personality shines through on every track, curiously blending a sense of confidence with that of self-consciousness and a quiet sadness. A master storyteller, Wallace creates layered tales mixing his own life and times with that of fictional characters creating a jilted mosaic of city life that lingers in the best way possible.
06. Radiohead, Kid A (2000)
After OK Computer, fans of Radiohead were left wondering just where these young Brits were planning on taking rock music next. Pushing the idea of the genre to the very limit, after all, is an exhaustive process. Expecting them to top it or even equal it seemed like wishful thinking at best--if not ludicrous.

Yorke and co. responded in kind, however, with an album as blisteringly full of ideas and life as anything they had released up until that point. Kid A served as a new identity for Radiohead while, some how, staying true to what the group had always set out to accomplish. Its arrangements were odd and filtered, its aura quirky and shimmering. A modern comment on this our technical age of awakening, Kid A was pitch perfect as an apt social commentary as well as a jubilantly imperfect journey into the depths of the rock music graveyard. Carelessly blending those pesky electronic elements most commercial rock acts were so terrified of at the time with a more traditional Radiohead style, the album was and is something of a beautiful mess; a rich and sordid testament to the fumbling of ideas and ideals that won't soon be forgotten.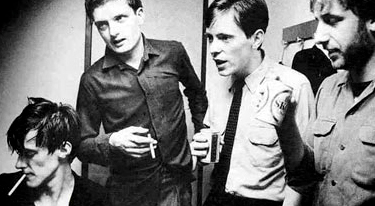 05. Joy Division, Closer (1980)
...
Despite the albums built in hipster status, before New Order was New Order, Joy Division raised the dubious bar for the fledgling idea of post-punk and certified themselves in the art of misanthropic angst and suicidal prose. The late Ian Curtis played no small part in the groups darkly tinted identity, shading everything they did with the urgency of life and the theatricality of death. In the wake of his suicide, like many artists of this type, his work is elevated to a point of controversial debate dealing with hidden messages that were never really hidden to begin with. This particular element was crystallized with Closer.

Closer has a face, and a life, and wears its frown proudly. It paints its surface with atmosphere like no album I had heard before or since. Closer uses its atmospheric malaise to create a world of uncertainty and sad wonder that is both exciting and heartbreaking; like a short walk along the journey of life that proved to be all too spot on.
04. Otis Redding, Otis Blue: Otis Redding Sings Soul (1966)
...
You wanna talk about emo? This is about as emotional as shit GETS. Otis Redding dealt in pain and misery like no other artist in his genre. Not only did you feel his pain, but also you felt his hope. When he subtly pours out his blood in two-minute pop confections, you travel with him through his sorrow and come out on the other side damaged but clean.

Perhaps the greatest collection of pop/soul these old ears have ever heard, Otis Blue is a collection of originals and covers Redding was given the chance to lend his talents to. The placement of each track is meticulous and perfect, making for a joyously heartbreaking romp into the world of Soul with one of its greatest contributors. Redding's spirit was unflinching and unavoidable. He felt pain with his whole being, and used that pain to try to make things better. Otis Blue is some proof that it may have worked.

03. Public Enemy, Fear of a Black Planet (1990)


Perhaps not as seemingly important as its predecessor, It Takes A Nation of Millions To Hold Us Back, Public Enemy's third LP Fear of a Black Planet remains every bit as potent and thought driven as the fore mentioned classic. Utilizing the palpable anger present through out the former album, Fear of a Black Planet plays as a much more even handed delve into the psyche of the ever present cultures and subcultures with a vicious honesty and insight that marked a high point in Hip-Hop.
As a lyricist Chuck D presents blunt wisdom and young rage in a way that is seldom off-putting and always curious. Layered sounds, inspired drops, and a bombastic sonic quality that has rarely been equaled help make
Fear of a Black Planet
memorable; however, it's Chuck with that hint of revolution in his voice, that promise of change in his eyes that make it unforgettable.
02.
Pixies, Surfer Rosa (1988)
You can call them eccentric or ridiculous. Maybe you're missing the point, maybe not. The brilliant thing about a band like the Pixies is the way that their open-to-interpretation like ambiguous nature leaves them void of pretense. Claims that the Pixies somehow reinvented or saved rock in the 80's are entertaining, even though it's hard to gage their validity. While listening to their debut LP,
Surfer Rosa
and its brash originality (as seamless as it is compulsive) it's hard to imagine that the band had anything larger than themselves in mind at the time.
Brave and markedly different,
Surfer Rosa
is an honest testament to the Pixies genuine need to travel off of the beaten path for the simple fact that they
wanted
to. It's schizo punk styling and overbearing oddness help to make it one the easiest "strange" albums to listen to, and one of the most continuously enjoyable and interesting rock albums to ever be released.
HA! Fooled you. The suspense is killing you isn't it? Stay tuned for Number 1, as well as South Dakota Dark's Top Ten Albums of '06!