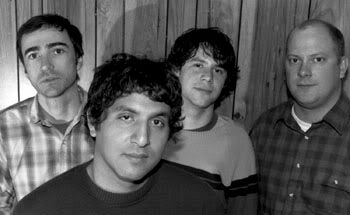 There was a considerable amount of hype that The Shins had to live up to with their mere third lp (as The Shins), Wincing The Night Away. Claims of being "the voice of a generation" and "culturally important" have been oh so flippantly thrown around between their extended hiatus after Chutes Too Narrow, and now...the zero hour. As for The Shins themselves, they've remained relatively quiet. Pensive perhaps, prepared to let their work speak for itself. There's only so much one can say when faced with such expectation, after all. Their subtle, yet abrasively emotional, Wilson inspired pop confections while, perhaps, immensely over-examined do tend to speak for themselves more often than not. Since Oh, Inverted World The Shins with their lofty vocalizations and grounded compositions have easily struck a chord with the right kind of listener because it's the kind of sound that is both free of pretensions yet filled with trepidation. With Wincing The Night Away, arguably the most important album of their young career, an odd and slightly off-putting balance is reached between an obvious and sedulous desire to expand their borders while grasping onto the sound that made them and makes them who they are.

Initially, the compelling factor has much to do with the admittedly expansive production, which, for better or worse, is far more crisp and grand than anything that has been put behind The Shins as of yet. It is decidely uncluttered but lacks some of the charm conveyed through the spacious and surprisingly towering moments found within their previous LPs. Realistically though, this is only a minor adjustment of sorts. By and large, WTNA is filled with copious attempts at sonic friction but finds itself far more at home when it's, well, at home. Mercer's breezy vocals and enigmatic lyrics are always marginally relatable if not remarkably cogent, and that seldom changes here. His accompaniment isn't always as complimentary as one would hope, however. It's not that The Shins have gone off the deep end creatively or created something strange with this album. It's simply that they seem to have only travelled part of the way. The end result is an album that seems to be looking onward towards the sky but, in the end, remains stagnant still.

For all the talk of stretching their legs, and expanding their sound with Wincing The Night Away, The Shins have really only done half the work. In tinkering with their already successful modus operandi, instead of creating a more powerful arsenal they seem to have simply ruined the old one. Well, almost. The end result is acceptable, but really kind of boring.