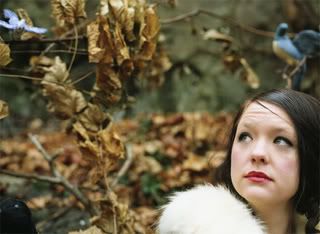 Mary Timony, of Helium semi-fame, possesses a distinctive charm that overrides the derivative nature of her most recent work. Still shying away from the mythological pretenses that cluttered her earlier passes at solo fame, Mary continues to employ that abrasive femme swagger that someone like Liz Phair would use to her advantage with little to no effort. Timony's latest LP, The Shapes We Make continues the fashioned hybrid of indie-pop and riot grrl mentality employed on 2005's Ex-Hex. The result is a wildly engaging, decidedly loud venture into morbid curiosities and half-dead truisms that have plagued Timony throughout most of her career. The Shapes We Make is surprisingly personal and arguably the most god damned rocking album of '07.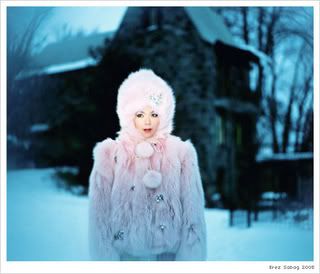 There is a point where every hipster fanboy, and elitist jackass has said just about everything that there is to say about Icelandic queen, Bjork. While her most recent display of oddities, Volta remains about as colorful and strange as its loudly mournful cover, there still seems to be a personal lack of purpose in finding anything relevant to share about the work. Now, I wouldn't go so far as to say that the law of diminishing returns is kicking in here, because if there is one thing consistent about Bjork's oeuvre it's how different each album strives to be. However, I think it is safe to say that there is, arguably, a strong disconnect forming between her intentions, innovations, and the blandness of the final product. While Volta is capable, solid, strange, and interesting, it fails to reach levels of compelling or exhilarating like most of its predecessors. This seems mostly due to how expected and common Bjork's artistry has become. She hasn't run out of ideas or become a bad artist, but her portraits have become depictions in staying power more than anything else. This is all just so obliviously mundane that it's become a sort of static lullaby; it's kind of depressing and it's putting me to sleep.



Sally Shapiro delivers the type of pop goodness that feels like it should be the guiltiest of guilty pleasures. Disco Romance (right from its ironically blunt title, to the forced, minimalist structure of its cover, to the abundant supply of caricatured melodrama inside) finds genius in its own simplicity. I feel incredibly pretentious having just said that, but I do believe it to be true. The melodies and palettes employed here are not only from another time, but serve as stark recollections of a time when enjoyable music was simply easier to make. However, the real star of Disco Romance, obviously, is Sally Shapiro. Her demeanor, be it heartbroken, lovelorn, or in love is palpable through every short story that she tells. Shapiro is able to make so many exaggerated instances of melodrama seem plausible simply through the power of her sly charisma. Basically, Disco Romance is the exact album you would expect after hearing its title--except it's amazing.