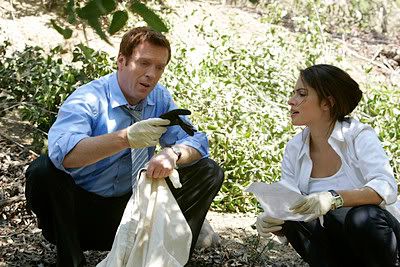 If you're the sort of TV fan who spends his or her time worrying about how networks interfere with good shows to make them more marketable, then "The Fallen Woman" might upset you. The Zen-loving, fruit-eating, Det. Charlie Crews of the first couple of episodes is gone, in his place we have a slightly offbeat cop whose spiritual focus this week shifts from Buddhism to angels. This episode also dials back the who-set-Charlie-up overarching storyline in favor of a meditative, stand-alone hour that deepens the connection between new partners Crews and Reese.

A gorgeous young woman wearing angel wings is pushed out of a hotel window. The case attracts heavy media attention and a parade of nuts shows up at the police station to offer various theories about the dead "angel." One diffident man knows the truth. A frightened glue factory owner named Jasper (Steven M. Porter) met the deceased, Lena, in a bar frequented by young Russian women. (Jessica Pare is terrific as a friend of the victim who helps out the cops despite her fear of Roman) The two had married after a happy year together, and that's when Jasper was visited by Roman (Garret Dillahunt, another Deadwood alum checking in). Roman is the sort of Russian gangster people attribute paranormal powers to. Judging by his calm (sociopathic) demeanor and knowledge of the detetctives' personal lives, something is going on with this guy.

It's not surprising Roman would know about Crews, everyone else seems to. But he also provides the first real backstory we've gotten on Reese. Although we don't know where he's getting his info, it's still a genuinely chilling moment when Roman asks Reese about her drug addiction while undercover, affair with a junkie, and subsequent rehab. Reese is appropriately rattled, and (the promos for next week suggest) might be headed back to the bottle. She also seems to have lost her religious faith, and is seen in a closing shot pondering a cross necklace. Sarah Shahi hasn't gotten the hype given to her costar Damian Lewis, but this episode proved to me her acting chops are more than up to the challenge. I'm looking forward to next week, which the promos the suggest will be a Reese-centric episode.

Roman is eventually tied to the murder, but the ending of the episode is bungled thanks to a plot twist I won't reveal. Let's just say the resolution of this case will be familiar to anyone who has seen "The Departed" and Roman is free to return in future episodes. I was looking forward to a good interrogation room face-off between Roman and the cops, though I did enjoy the scene of Reese giving a Homeland Security agent some attitude.

In the subplots, Charlie's lawyer Constance was wrong to take on that shady client Neil Cudahy last week. Neil gets rough with her and Charlie eventually gives him a smackdown in a restaurant bathroom, leading to a look-in-the-mirror moment as Charlie gives into the violence of his prison days. Constance, married but in love with Charlie, is headed for New York on a case as the episode ends. Robert Stark (Brent Sexton), Charlie's partner from his pre-jail uniform days, is back this week. Stark (who let Charlie go down for the murder 12 years ago) has always seemed a little too eager too see his old buddy; at episode's end Roman drops a hint Stark may know something about 15-year old missing money. More to come on that....

"The Fallen Woman" feels like an episode of a show that wants to be around awhile, that wants to put character on an equal footing with story and isn't always about the payoff. I'm not saying its Homicide or anything, but in five weeks Crews and Reese have become very rounded, appealing, and yet believably flawed characters. Life continues to be my favorite new show of the season.