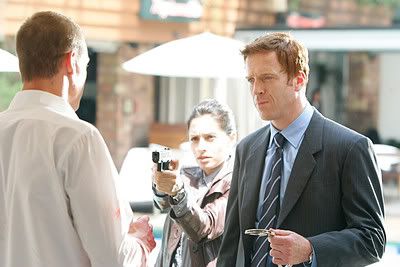 After the season-long incremental release of information about the 12-year old murder that wrongly sent Charlie Crews to prison, the last two episodes of Life have felt like a rush to revelation. Ever since the arrival of Jack Reese (Victor Rivers), ex-cop and father of Charlie's partner Dani, it has felt like the show was in a hurry to get the who-set-Charlie-up storyline out of the way. Last week I wrote that Jack was awfully big with his threats for a man with something to hide. Jack also appears to know something about the missing money from that Bank of L.A. shootout we've heard so much about. Wouldn't it make more sense for him to play it cool?

Halfway through tonight's episode Charlie learns from his lawyer-turned-D.A. Constance that he's no longer a suspect in the killing of Ames, the cop who put him away 12 years ago. Jack is immediately in the office of Lt. Davis, demanding to know why Charlie is no longer the focus of the investigation. I had been bracing for a revelation that Davis had some old skeleton that would affect her judgment in matters regarding Charlie, but from the way Robin Weigert played this scene I think that Davis is beginning to realize Jack is wrong.

The audience gets a strong signal that Jack is dirty, and Charlie gets one too. There's a cute LAPD crime tech who has eyes for Crews, and in the closing musical montage she simply hands him Jack's confidential personnel file. Just hands it to him. A local news bulletin cut about 90 seconds off the episode for me that the rest of you saw, but unless it happened during that time we never even saw Charlie mention Jack around her. It doesn't take Charlie long to discover that Jack had a registered informant who bears a more than passing resemblance to the drawing done by Rachel (the daughter hiding in the house during the murders) of her family's murderer.

The choppiness of tonight's episode may have something to do with the fact that (according to my onscreen guide) it's the first of two parts. Charlie is off to prison to visit Jack's informant; we'll see that Wednesday night. The murder case that Crews and Reese worked had a similar rushed feeling to it. A construction project unearths decade old remains. The victim was a Zen master found underneath what had once been his center. Thanks to the fact that records can be pulled from the Zen master's comically enormous dated cell phone, Crews and Reese have no trouble finding his students. This arc of the episode works in a martial arts expert, two dot com geeks, the Zen master's penchant for masochism, and a decadent L.A. party (fans of Sarah Shahi's L Word tenure will enjoy her girl-on-girl kiss) before a key piece of evidence turns up in plain sight. It all felt like an attempt to develop the interest in Zen Charlie used to get through prison. If that was the intent, it didn't pan out.

Even though I've knocked past episodes for some improbable twists, this was the first episode that as a whole just didn't flow for me. There's also filler about Charlie's ex-wife, a horse, and conversations with the murder victim. Still, the show is going somewhere at such a speed that I think the writers have an idea for the next phase of Life. I can't wait.