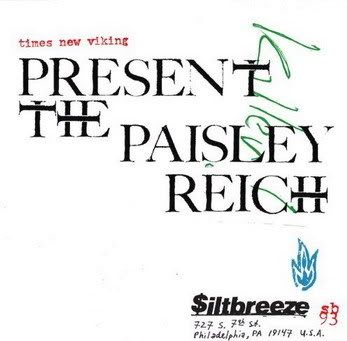 15.

The
Paisley
Reich

, Times New Viking
The Paisley Reich
is something of an anomaly. By all accounts this should be a bad album. It is excessively loud, brash and atonal. It's plodding and difficult. However, the more you understand the adept nature in which it was conceived, the more you start to appreciate Times New Viking in all their debauchery and self-indulgence. The clustered up, lo-fi arrangements are static in nature but fluid in delivery. Each track has a vitality specific to the album.
The Paisley Reich
is able to reach a unique harmony found between noise and control, and it is truly something to behold.
14.
American Gangster
, Jay-Z
A return to form seems like such a damning term to apply to Jay-Z. Carter may not hit "homeruns" every time he makes a "comeback," but he still has, maybe, the most impressive body of work in modern hip-hop.
American Gangster
is interesting in that it finds him both returning to his niche and instilling the prevailing feeling that he is pandering to fans. I don't feel that the latter is true, but an argument surely can be made for it.
American Gangster
finds an inspiring meeting between the acid tongue and the earnest mind without forgetting its true nature.
13.
Neon Bible
,
Arcade
Fire
To initially view
Neon Bible
as a sophomore album, I think, does it a disservice. Arcade Fire has an all too publicized way of seeping into the heart of matters and changing their very nature. This to say that: they make sadness not a celebration, but a part of life.
Neon Bible
accomplishes this in a singular way. The same way that Funeral accomplished this in a singular way. The core sound remains the same, sure, but the variety of mindsets and emotions (oh boy, the emotions) expressed on
Neon Bible
have such a lucid, marked identity. This is staggering.
12.
New Moon
, Elliott Smith
Elliott Smith's second official posthumous release,
New Moon
, plays much better as a celebration than an obituary. Spanning two discs of bootlegs, b-sides and demos,
New Moon
portrays Smith's work in stunning fashion, breathing life into a body that never really seemed to die. There's an endearing lack of pretense on display, which makes for an intriguing listen that feels like a completely new experience--even for a long time fan. There is an ever-pressing sadness residing behind the silver curtains, but you ignore it for a little while, and simply visit with an old friend before you say farewell…again.
11.
Night Falls Over Kortedala
, Jens Lekman
Night
Falls
Over Kortedala

is the first LP proper that I've heard from Jens Lekman. 2005's You're So Silent Jens was a brilliant collection of singles--as well as multiple compilation and EP tracks--that all formed into seriously gentle, seriously "eccentric" vision of a pop mastermind. Night Falls

Over Kortedala

, was pieced together from recordings made over the last three years, and builds upon that charming (almost-campy) persona that Jens has always put forth in previous recordings. Beyond that, it further explores the various avenues of orchestral sampled chamber pop that makes the stilted emotion all the more graceful.


***Tomorrow: Places 10-5 on SDD's Top 15 Albums of 2007!***