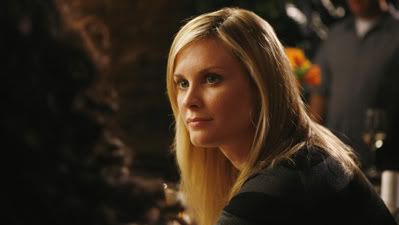 I'll come clean. I have a weakness for shows in which good looking women wear incredible clothes and navigate the social byways of Manhattan. That's why I was glad no one else wanted to write on Cashmere Mafia; I was all set to have one great big guilty pleasure of a time writing about a series diametrically opposed to Life, the other (sorely missed) series I've been working on. But then....

...a comment I received about my post on the pilot has stuck with me. Yes, the Cashmere Mafia ladies are strong and assertive professional women. But (the commenter said) they're punished for trying to have it all. Let's consider: Mia (Lucy Liu) loses her fiance when she lands a huge promotion at her magazine publishing firm. Juliet (Miranda Otto) learns her husband is sleeping with someone in their social circle. Zoe (Frances O'Connor) finds her job incompatible with parenting, and Caitlin (Bonnie Somerville) realizes her own sexuality has been subsumed by career.

It was the spreadsheet that really got to me. Early on in "Conference Call" the ladies huddle over a spreadsheet listing revenge lovers available to Juliet, who at the close of the pilot had vowed to get even with cheating husband Davis (Peter Hermann). Since it has already been established how hard all these ladies work, this scene of four women searching for a non-threatening sex partner for one of them felt not only reductive but wildly implausible. The eventual winner is an ex-business school classmate (Bill Sage) who offers Juliet a no-strings attached affair, but will stepping out on Davis really heal Juliet's hurt? "There's no such thing as getting even," as Kathryn Erbe observed in the Law & Order I watched right before flipping to ABC.

The other married Mafiosa is Zoe, who tonight feels the heat not at work but from her other flank: a stay-at-home Mom. Zoe's husband Eric (Julian Ovenden) is an devoted and agreeable architect, but clearly feeling the strain of doing most of the parenting. The Queen Bee Mom (a well-cast Krista Allen) at the school Zoe's kids go too wastes no chance to make Zoe feel inferior for working. The highlight of the episode was the scene in which Zoe opens the "Working Mom" bear that her children have made while on a playdate with Allen's kids. I thought the bear - which chirps "I'm on a conference call - was a softer way of reminding Zoe how much she has to fight for than having Eric get hit on by the rival Mom (of course, this happens anyway). Zoe wins by finding a way not only to accompany her kids on a field trip but including all the other parents in the class as well.

On her first day at her new job Mia is ordered to fire her mentor, a plotline that would have carried more weight if said mentor hadn't played so indifferently by Damian Young. (Next week promises a parting shot from Mia's ex-fiance, that should be better). Caitlin bungles her date with Alicia when they run into an ex of Caitlin's who boorishly comments on her dancing with a woman. Things are happily resolved with a kiss; Caitlin gets outed next week in a plotline that should have more substance. (Mia fires her director of marketing, Caitilin is a director of marketing. Just a thought.)

I don't know if ready to say that Cashmere Mafia punishes its heroines, but it does spend a good deal of time putting them in dilemmas that a man would never face. How about showing them demonstrating the skills that got them their jobs in the first place?