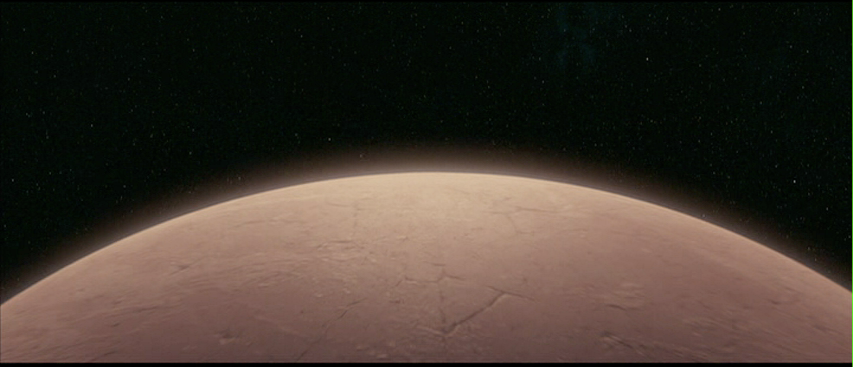 [The Deeply Superficial Blog-a-Thon is over. I'll be typing up a wrap-up post tomorrow. If you didn't get your post in in time, I will continue to update this post. Just leave a comment on it, and I'll toss the link in there. Thanks to everyone who contributed! Here are the links!]





After a Thursday with no posts, the Blog-a-Thon came roaring back in its last day. Matt Zoller Seitz over at The House Next Door took a look at five movies that he thought had stunning visuals, even as their dialogue or scripts might have been lacking.




Also, guess what? It was apparently Star Wars prequel day at the ol' Blog-a-Thon. After Matt defended Attack of the Clones, Ali Arikan offers his defense of The Phantom Menace at Cerebral Mastications.




Finally, at Cultural Learnings, SDD contributor Myles McNutt offered his explanation for why NBC is the prettiest network in all of television land. You'll get no arguments from me, sir!




Bob Turnbull of Eternal Sunshine of the Logical Mind has an awe-inspiring and impressive collection of screencaps from some of his favorite movies, with plenty of shots he just likes to look at.




Piper at Lazy Eye Theater wrote a lovely ode to two of the cinema's most striking blondes -- Naomi Watts and Charlize Theron. Not only are they talented actresses, but they have OTHER qualities worth appreciating too.




Tiff at Temporary Madness offered up a collection of GQ covers just to show how that eminent American magazine can really show off some of our most handsome fellas. Present company excepted, of course.



Tosy and Cosh offers a list of 20 deeply gorgeous things, including photos and YouTube videos and everything. What's more, you'll get our second and third Sunday in the Park with George references of the Blog-a-Thon, which I'm sure we all anticipated.




And SDD's own Daniel took on the subject of good-looking album covers. There's even a joke about an ill-considered Garth Brooks vanity project! You just don't get to see things like that every day.




Super Tuesday had most of us scrambling to follow the big political news, but some of us got a moment to indulge in the superficial on this least superficial of days. Here at SDD, I posted some screencaps of the deeply gorgeous The Assassination of Jesse James by the Coward Robert Ford from reader and Assassination fan Dustin Wellman.




And Jennifer at Chaos Theory continued to be the Deeply Superficial MVP with a post that's all about the wondrousness of hearts, just in time for Valentine's Day.




'Twas a quiet day here at the Blog-a-Thon (not that I blame y'all -- Mondays suck). Fortunately, Jennifer at Chaos Theory has a post on the fashion differences between the guys and the gals of the classic teen comedy Clueless.



And finally, I took some time out to direct you to my favorite of the Super Bowl ads here at SDD. Let's hope for some more posts tomorrow!




Adam at DVD Panache says that Donnie Darko doesn't QUITE match up to Citizen Kane, but there are certainly sequences in it that he can appreciate on that deeply superficial level.




Emma at All About My Movies posts a variety of lovely photos and stills from all the colors of the rainbow. Lots of great things to look at there!




Maul of America's GCCR has a few things to say about Orson Welles' The Stranger, the great director's least favorite of his films but one that's "more interesting than the A game of a lot of other filmmakers," writes GCCR.



And here at SDD, I write a little about the strange appeal of the deeply superficial "Yes, We Can" video in support of Barack Obama's presidential campaign.






Dan at Cinemathematics compares the use of black-and-white and color in film and discusses which does what better, complete with plenty of YouTube videos and purty pictures.




Jennifer at Chaos Theory has a thing or two to say about bunnies. Actually, she's got a whole list's worth of things to say about them. She is decidedly pro-bunny, though, to be fair, aren't we all?

Brooke Cloudbuster at Boy on Film muses on why "the pretty" can have such an effect on us and just what role it plays in our enjoyment of films. Also, lotsa links!




At Gee Bobg, Bob himself says that the superficial pleasures of the film "Blue Crush" go beyond what's in the picture above. Honest! (And I agree. That film is just plain fun to look at, even DESPITE the lovely young ladies.)




And here at SDD, Carrie's got one or two things to say about the wonders of shirtless males and how the perfectly sculpted ones can make even the most boring screen entertainments perk up. Also, there's a video from She's the Man, which is the greatest cinematic achievement of our time.




Here at SDD, I take a look at five body parts I like on actresses I genuinely find talented. It's not as icky or as sexist as it sounds, I promise!




Over at Mostly Movies, SDD contributor Simon Crowe talks a little about the haircut Felicity got in the second season of that show and how underrated that season is as well.