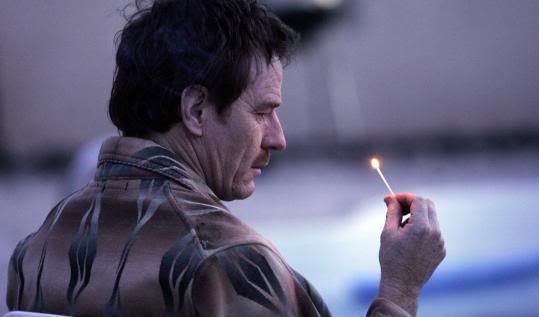 AMC's Breaking Bad, about a terminally ill chemistry teacher who builds a nest egg for his family by manufacturing crystal meth, is not a great show. But it has the makings of one, and it's already striking for a number of reasons, one of which is its status as latest in a string of promising, flawed series dragged across the finish line by a revelatory central performance. Like Michael C. Hall in the first season of Dexter and Hugh Laurie throughout the entire run of House, Breaking Bad star Bryan Cranston (formerly Malcolm in the Middle's frantic dad) is turning in the strongest work of his long and varied career. The show's gimmicky premise is helped immeasurably by Cranston's willingness to play it straight. In its strike-shortened first season, which ended Sunday, Breaking Bad seemed as though it was building towards realizing its strengths and ditching its weaknesses. If AMC sees fit to give it a second season, it could become richer still.
______________________________________________
Read the rest of the review here.