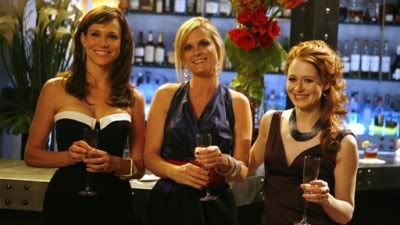 Last week I wrote about the "spreadsheet" - the ladies' methodical search for a "revenge lover" for Juliet after her discovery that husband Davis had been having an affair with Cilla Grey (Noelle Beck). To me, the spreadsheet was just the sort of plot we don't need from Cashmere Mafia; that is, one that makes them look like man-hungry, control-freaky harpies. So I'm happy to report that Juliet's search for a get-even fling is resolved this week....

Davis is pulling out all the stop in attempt to get back in Juliet's good graces. He organizes a family trip to the theater, surprises Juliet at work, and even suggests a return trip to a favorite resort. Although Juliet is still planning a rendezvous with old business school chum Bobby (Bill Sage, unconvincing as a corporate titan), she's beginning to wonder if her time wouldn't be better spent working on her marriage.

There's a heartbreaker of a twist at the end of this episode. It appears that Juliet has vanquished Cilla by promising to put in a good word with the co-op board regarding the penthouse Cilla was after in the pilot in exchange for Cilla's shutting down an anonymous blog that has outed Caitlin as a lesbian. But what if Cilla was more than just a fling to her husband? That's what Juliet has to face
going forward. I think anything that complicates the emotional terrain of these ladies' lives and stays away from a kind of "Sex and the City"-ness ("Hey, it's Manhattan! It's crazy! I'll sleep with him if you sleep with her!") is a good direction for the show.

But there's much more fertile storytelling ground over with Zoe, who travels to Boston with her annoying subordinate Katherine (Kate Levering) and a male colleague to close a deal. The conflict between two generations of professional women is something we haven't seen explored much on TV. Zoe is horrified to discover that Katherine is sleeping with the guy on the business trip; the relationship leads to Katherine giving away a piece of the firm's profits in order to close the deal. Zoe orders the guy to end the affair. When Katherine threatens a lawsuit she winds up with a barely deserved promotion. We don't see enough of Katherine to know how aggressively she pushed the relationship, it could of course be argued she's the victim. But I did like the way this part of the episode ended (Zoe jumps into bed with her husband); the takeaway from Zoe this week is that women can be fulfilled keeping personal and professional separate, thank you very much.

Meanwhile, Mia must decide whether to approve a splashy magazine cover (which shows a man being "eaten for breakfast" by a woman) that was the last project of her ex-fiance Jack before he quit and called off their wedding. We know Jack returns next week, so I'll have more to say on Mia next week. All I can say for now is that this episode seemed designed to show Mia's vulnerability, and that high-powered corporate women really do want to "have it all." Nothing new there, but we'll see where it goes. Caitlin spent most of the episode worrying about being outed and dealing with an untimely zit on her forehead, but she did have a sweet moment with would-be girlfriend Alicia. Next week a man appears, and Caitlin's new relationship is threatened.

All in all an improvement on episode 2, and I now like all these women a good bit more.